Movie Quality Batman Costumes for Cosplay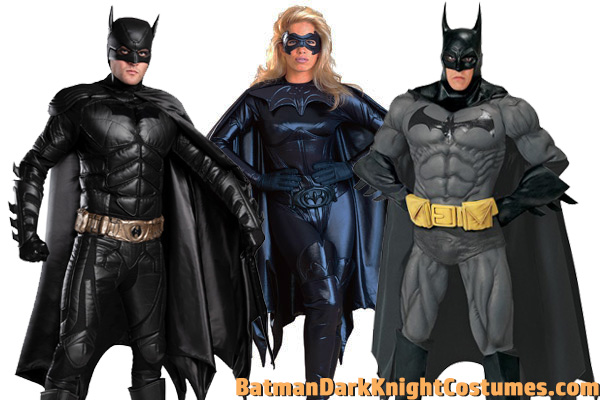 Another exciting season of Halloween is approaching! If you are a super fan of the Dark Knight movies and comic books, you will want to suit up in a high quality Batman movie costume this year! The Dark Knight movie costume features a professionally designed top, pants, satin cape, molded pieces, headpiece, tunic, shorts, belts, gloves, and boot tops. All pieces (with the exception of the cape, shirt and pants) are latex that tie into place. This year we have an updated version of the suit thanks to the new Justice League and Batman V. Superman movies. Manufactured by Rubies, the Dark Knight Grand Heritage costume and Justice League's Batman Grand Heritage costume are both available but in limited quantities so don't wait till the last minute! 
Adult Batgirl Movie Costume

If you are celebrating Halloween with your significant other, you can dress her up as Batgirl in this movie quality costume!


---
The Dark Knight Rises Batman Costume

This is the new lower priced revised version of the super deluxe Dark Knight Rises costume. This super hero outfit is also part of the Grand Heritage Collection.


---
Dark Knight's Original Batman Grand Heritage Costume

This the official Dark Knight movie costume. The extraordinary high quality complete costume set includes a bodysuit, armor, gauntlets, belt, cape, boot covers and mask. This super deluxe set normally retails for $600. Now it is currently on sale! Available in adult men sizes: medium, large, or extra large. Next Day or Two Day shipping available for this outfit.


---
Batman Arkham City Costume

This super deluxe DC Comics costume is designed for true fans. Inspired by the Arkham City comics and video games, this stylized and complete Batman suit features a full latex costume with sculpted muscles and accessories. This ultimate super hero outfit will impress everyone on Halloween.

---
Armored Batman Grand Heritage Costume

If you loved Batman's new armor battle suit in the movie Batman V. Superman: Dawn of Justice, you will want to suit up in this super deluxe Batman Armored Grand Heritage costume that looks like the one featured in the scene where he battles Superman!

---
Justice League Batman Costume

The latest Grand Heritage edition of the brand new Batman's Justice League costume from the movie Justice League! Ben Affleck's Batman will be back in the next installment of the Justice League movie coming soon!


---
Available in men size Medium (M), Large (L), and Extra Large (XL) only. This is the ultimate Batman movie Halloween costume that will impress everyone when you go out. This theatrical quality Halloween movie costume is the officially licensed replica of what was featured in Batman The Dark Knight Rises movie franchise. Don't miss out on wearing the best Adult Batman at your next Halloween costume party! This movie-quality Dark Knight costume is an officially licensed item from the summer movie blockbuster Batman The Dark Knight.
Grand Heritage Joker Costume

We can't forget about Heath Ledger's The Joker. If you need a movie quality Joker costume, we recommend this high quality Joker costume from the Grand Heritage collection.

---
Jack Nicholson's Joker Costume 1989 Batman

This outfit is inspired by Jack Nicholson's Joker from Tim Burton's 1989 original Batman movie. If you're a fan of the '80s version of Joker from the original Batman film series, we recommend this costume! Click to see size details. The overcoat, hat, shirt with tie, and pants are sold separately.

---
Deluxe Batman Halloween Costume for Men

This deluxe Batman Halloween costume for men features a muscle chest Dark Knight jumpsuit with cape, face mask, belt, and boot tops. An officially licensed Dark Knight Rises costume is available in adult men sizes: medium (38-40), large (42-44), and X-Large (44-46).

---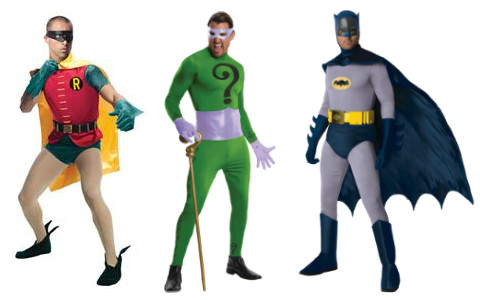 The Dark Knight Movie Trailer (2008)
Did you know that The Dark Knight was the first Batman feature that didn't incorporate "Batman" into its movie title? During production in 2007, the director used codename "Rory's First Kiss" to keep a low profile from the public and thwart people from leaking spoilers.