Grand Heritage Joker Costume for Sale
Even though Halloween is still another month away, a true Joker fan will always look for any fun opportunities such as cosplay events or comic book conventions to dress up as his favorite Gotham City villain! So you will love this highly detailed movie quality Joker costume, created by Rubie's for their Grand Heritage line of high quality costumes, that is inspired by Heath Ledger's infamous villain from the film Batman The Dark Knight. In addition, Charades have their high quality cosplay version of the Joker costume so you can check that one out too, it's very comparable to Rubie's. If you prefer the comic book version of this character, there are also new DC Comics Joker cosplay costumes that are made of high quality! And fans of Jared Leto's Joker in the Suicide Squad movie can choose quality costumes in that design as well. Most of all, you can't forget the classic TV Joker costume design that Cesar Romero featured in the Batman television series in the Sixties. Also, check out the new deluxe Female Joker costume designed for women!
The Best Joker Costumes for Cosplay and Halloween!
Jack Nicholson's Joker Costume 1989 Batman

This new outfit is inspired by Jack Nicholson's Joker character from Tim Burton's 1989 Batman. If you are a fan of the '80s version of Joker from the original Batman movie series, we recommend this costume! Click to see size details. Note that the 1989 Joker's overcoat, shirt, pants, and hat are sold individually.

---
Grand Heritage Joker Costume

This is the official Dark Knight Batman movie costume from the Grand Heritage collection from Rubies. This deluxe set is complete and includes Joker's trademark purple jacket, green vest, grey shirt, pin striped pants, tie, and a 3/4 latex mask with attached hair. A basic make-up kit for The Joker includes white cream makeup, black makeup stick, red makeup stick, mouth scars and face adhesive. An excellent bargain for an officially licensed Joker costume.

---
Official Joker Vest, Hexagon Shirt, & Pants – Heath Ledger's Joker

Build your own Joker cosplay! If you are looking to faithfully recreate Heath Ledger's Joker costume from the Dark Knight, now you can collect individual clothing like his hexagon shirt, vest, and pants. This is great if you don't want to wear his jacket but that is available separately too! These are high quality official recreations of the original Heath Ledger Joker costume! These are great as an option if you need to replace parts of your Dark Knight Joker cosplay or if the Grand Heritage costume set is unavailable.

---
2019 Joaquin Phoenix's Joker Costume

If you enjoyed watching this year's new 2019 Joker movie and Joaquin Phoenix as Arthur Fleck, you will want to suit up in this Arthur Fleck's Joker cosplay! If you need this quickly, select Amazon Prime shipping for overnight or next day deliveries!

---
Classic 60's Joker Costume

Everyone remembers the original outrageous Joker played by actor Cesar Romero in the original '60s Batman television series! This super deluxe Joker television show costume is also part of Rubie's Grand Heritage collection. If you are feeling nostalgic this Halloween, why not play homage to the original Joker from 1966?

---
Deluxe DC Comics Joker

If you prefer the comics over the movies, we recommend this new lavish Joker costume inspired by Joker's character design from the DC comic books. This high-quality outfit includes a matching purple suit jacket and pants set. Also included are the shirt, tie, vest, and pair of gloves.

---
Adult Riddler Costume Set

If you prefer to suit up as the Riddler, this complete costume set has everything you need to become the master villain of riddles! This includes his jacket, pants, tie, shirt, gloves, and hat!

---
Dawn of Justice Batman Grand Heritage

The latest Grand Heritage edition of the brand new Batman's Dawn of Justice costume from the movie Batman vs Superman which premiered in March 2016!


---
Deluxe Suicide Squad Joker Costume

This deluxe outfit is inspired by Jared Leto's Joker in the new Suicide Squad movie. Available in standard or X-large size for adult men.

---
Dark Knight's Batman Grand Heritage Costume

The extraordinary complete movie costume set includes a bodysuit, armor, belt, cape, gauntlets, boot covers and mask. Available in adult men sizes: medium, large, or extra large.


---
Original Riddler Costume

Who can forget the classic Riddler character played by actor Frank Gorshin in the original Batman TV program. Now you have the chance to dress up like him for Halloween in this high quality Grand Heritage costume replica edition.

---
These Joker Halloween costumes sell out quickly during the Halloween season so don't wait too long to shop for one! Also check out the other Batman and Gotham City character costumes available below.
Check out these Dark Knight movie costumes!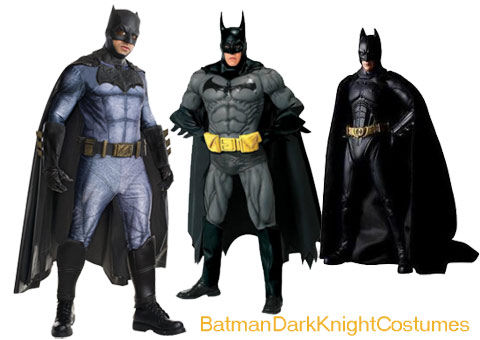 Also available are classic Batman character costumes!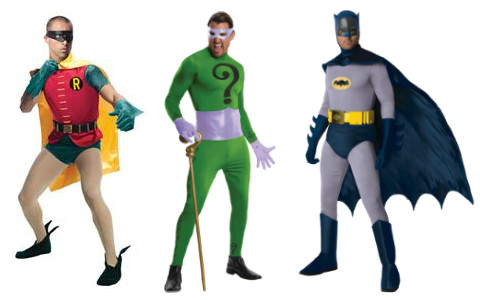 Heath Ledger's Grand Heritage Joker costume by Rubies is very popular during the Halloween season so if your size is out of stock in retail costume stores, try shopping for your size from these listings by other costume sellers. Overnight delivery, 2 day, 3 day shipping available by many sellers. Only limited quantities are available for sale before Halloween so buy yourself this great Halloween costume before time runs out! Impress your friends with this quality disguise.  We listed some of these bargains currently on auction since many Halloween stores have these Grand Heritage costumes currently out of stock.
This outfit is available in adult men clothing sizes: medium, large and x-large. If you are looking for something less extravagant, try the Standard The Joker costumes which are also in stock. The Grand Heritage Joker costume by Rubies is very popular during the Halloween season so if your size is out of stock in retail costume stores, try shopping for your size from these listings by other costume sellers. Overnight delivery, 2 day, 3 day shipping available by many sellers. Alternative quality Joker costumes and clothing for sale.
The Joker was created by Jerry Robinson, Bob Kane and Bill Fingern to become Batman's arch nemesis in the first Batman comic book of 1940. The comic book was published by DC Comics which helped develop Batman into a big hit with super hero fans. The Joker became one of Gotham City's most notorious villains and one of the most popular characters in all Batman media. Most TV fans remembered the Joker featured in the '60s television show played by Cesar Romero who rivaled against Adam West's Batman for several episodes for three seasons. Joker at that time was comical and campy. It wasn't until Tim Burton's revision of Batman in 1989 we were able to see the darker side of the Joker on the big screen. The movie version had Jack Nicholson playing the role of The Joker and Michael Keaton as Batman. But Christopher Nolan went further with a darker version of the Joker in his sequel to Batman Begins called The Dark Knight. Legendary actor Heath Ledger made The Joker even more memorable for Batman fans. It was also his final complete role in a theatrical movie before his death. Critics and fans both reviewed The Dark Knight a superior film and revived the popularity of Batman among fans. And fans can enjoy the final entry of the saga, The Dark Knight Rises, which was released July 20th, 2012. The Joker is notably absent in the final movie (Bane and Catwoman are the latest characters) but it is still worth to watch by Batman fans!