Bane Halloween Costumes Sale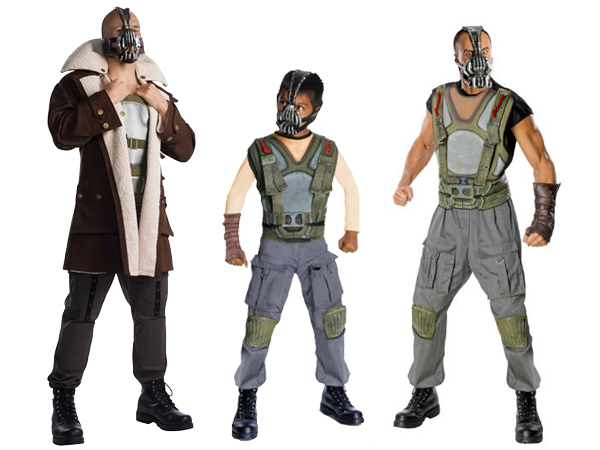 The Dark Knight Rises' final movie villain is Bane, played by actor Tom Hardy in the final chapter of the Christopher Nolan's Batman movie saga, The Dark Knight Rises. However, dedicated comic book fans remember Bane as a slightly different looking supervillain in the DC comics for years. This unusual man's origin story was told in Batman: Vengeance of Bane #1 (Jan. 1993). The comic book character and his storyline were created by Chuck Dixon, Doug Moench, and Graham Nolan. The villain also had a minor role in the movie Batman & Robin in 1997. Most recently, actor Tom Hardy took on the role in the newest Batman movie. Bane's role is much larger and featured as the main antagonist in the movie The Dark Knight Rises which has given the villain a lot of attention with the public. The popularity has inspired new Bane Halloween costumes for kids and adult men that captures his unique look. Check out these bargains on these Bane masks and character costumes now on sale, especially the new movie quality costume of Bane now also available in plus sizes 1X-3X!
The Bane Halloween Costume Ideas
Cosplay Quality Bane Costume

If you need a high quality Bane costume for a cosplay event, we recommend this new Bane cosplay costume! This ensemble outfit not only includes Bane's iconic coat, it includes his vest, combat pants, and face mask. This fantastic quality costume is also available in Plus Size for big and tall guys!

---
Kid Bane Halloween Costume

From the movie The Dark Knight Rises, this child version of the Bane Halloween costume features a printed jumpsuit and face mask. Available in boy sizes small, medium, or large.

---
Adult Deluxe Bane Costume

This men's Bane Halloween costume features a muscle chest jumpsuit, molded belt, molded gauntlet, and mask like in the movie The Dark Knight Rises.

---
Dark Knight's Bane Mask for Adults

If you just need the sinister face mask of Bane in The Dark Knight Rises, you will want this 3/4 adult face mask.

---
Bane Kids Mask

Complete your child's Bane costume with this official mask from Dark Knight Rises.

---
If you haven't found what you are searching for, here are some more Bane costume ideas for Halloween. If you are looking for Bane's coat or bomber jacket, cosplay, and other high-quality Bane costumes, you can browse through these listings by sellers online.