Kids Joker Costumes for Sale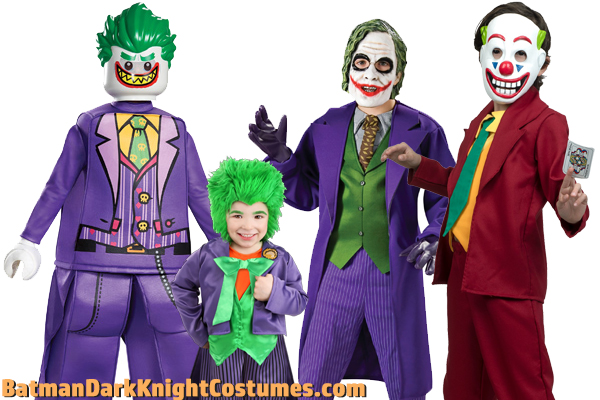 Halloween weekend is just over a week away so now is the time to get your child's Joker Halloween costume! The Batman's longtime rival The Joker is Gotham City's most notorious villain in both the comic books and movies! Some of these Joker Halloween costumes here are inspired by the Dark Knight movie in which the infamous villain was played by late actor Heath Ledger. While other outfits are inspired by the animated series and DC comic books. So they come in many styles! You can choose either the affordable versions or the more detailed deluxe Joker costumes which 100% polyester purple jacket with an attached blue shirt with green vest & brown print, matching violet stripe pants & a full face mask with green synthetic hair. There is also another new official Joker costume for kids released this year that has a different style. If your son doesn't want the full face mask, you can buy the official Joker makeup kit for sale that is listed below.


Kid's Joker Costume (Joaquin Phoenix version)

If you want your child to suit up as Joaquin Phoenix's The Joker from the movie, we recommend this costume which features the orange/yellow shirt, maroon color coat and matching pants.

---
Toddler Joker Costume

Little tots like to play superheroes too. So if you want him to suit up as The Joker, we found this little Toddler's Joker costume! This outfit includes the jacket, shirt, vest, bow tie, matching pants, and green wig! All you need to add is makeup and shoes!

---
Child Fancy Joker Costume

If your child wants to be the best dressed Joker in town, you will want to get him this one: it features a fancy style pinstriped jacket with long sleeves, pockets and green buttons, as well as a matching pair of pants, and green tie with printed "HA HA" graphics. Joker's clown makeup sold and available separately.

---
Stylish Joker Child Costume

If you want your child to have a more unique Joker costume, check out this new Gotham City's Joker costume for kids. This is an officially licensed Batman's Joker costume for boys available in sizes medium or large. This child outfit features a stylish purple jacket with yellow shirt, bow tie, vest matching purple pinstriped pants.

---
Joker Make up Kit with Wig

If your child doesn't want to wear a mask, this makeup kit will help disguise him as the Dark Knight's Joker. This kit also includes mouth scars and Joker's green wig at a great bargain price!

---
Tween Joker Halloween Costume

Tween size is for boys around ages 11 – 13. This officially licensed Joker Dark Knight costume includes the the character mask and purple jacket with a printed shirt, tie and vest.

---
Child Joker Purple Gloves

Child size Joker gloves for kid Joker costumes. An official Dark Knight product for Halloween.

---
We hope we gave you some good and interesting Joker Halloween costume ideas for kids this year. There are also other Batman costume themes at this website for you to look at. Check out our other pages to see what's available online this year!
| | |
| --- | --- |
| The Joker's Makeup Kit | The Joker Halloween Masks |
Kid Deluxe Batman Costume

From the film The Dark Knight Rises, this is the official deluxe Batman costume for kids. This movie character outfit includes a child muscle chest Batman jumpsuit available in boy sizes small, medium, and large.

---
Check out these classic Batman character costumes!