Catwoman Halloween Costumes Ideas for Girls & Women
Even though Halloween is still another month away, don't wait too long to choose your outfit! The Catwoman Halloween costumes are very popular again this Halloween season. The success of the latest The Batman movie brought Catwoman back into the spotlight. Each time this infamous feline villainess returns, we are introduced to a new Catwoman outfit, inspiring a wide variety of costume styles and choices available for Halloween! We organized the best Catwoman costume ideas that will fit a variety of sizes of women and girls, including full figure women. Christopher Nolan's Batman movie sequel The Dark Knight Rises brought back to the big screen the classic feline villain, the Catwoman, played by the beautiful and talented Anne Hathaway. But before being adapted to the Hollywood movies, long time fans remember the character being originally introduced to comic book readers in the 1940's. The feline fatale received wider exposure through the popularity of Batman which expanded into a successful '60s television series featuring Eartha Kitt and Julie Newmar as Catwoman.
The Best Catwoman Halloween Costume Ideas for 2023
Child Catwoman Costume The Batman

This is the child version of the Catwoman costume from The Batman. She's also known as Selina Kyle in the movie and played by actress Zoë Kravitz. Now your child can transform into this movie character in her own child Catwoman costume.

---
Fierce Feline Costume

If you want a unique sexy cat woman outfit, you'll stand out in the crowd with this black catsuit on Halloween night. This features a textured black jumpsuit with a front zipper, black cat eye mask, and cat ears headband. Available in women sizes small to extra-large (XL).

---
Catwoman Movie Quality Costume – Anne Hathaway's Version

If you want the ultimate deluxe Catwoman movie costume from Christopher Nolan's final Batman film The Dark Knight Rises, we recommend the Catwoman costume produced by Rubie's Grand Heritage Collection. This high quality Catwoman outfit features a high quality catsuit, bootcovers, belt, gloves, eyemask, and headpiece. Available in sizes small, medium, or large.


---
1X-5X Plus Size Cat Burglar Costume

This sexy full figure Catwoman costume for plus size women is available in several sizes so anyone can suit up as the sexy voluptuous Catwoman! Available in sizes 1X, 2X, 3X, 4X, and 5X.


---
Below is a list of cat outfits inspired by the movies such as Michelle Pfieffer's Catwoman from Batman Returns (1992) and Halle Berry's Catwoman from her 2004 feature film. There is a wide variety of different cat outfits for the Halloween season so we are listing the best Catwoman Halloween costume ideas for kids and women available this year!
Batmans Returns Catwoman Costume

If you enjoyed Michelle Pfeiffer's Catwoman in the movie Batman Returns, you will love this black catsuit with sewn stitch marks inspired by the film. Disguise yourself as Gotham City's infamous cat burglar for Halloween night.

---
Long Brown Catwoman Wig

This is the Catwoman wig for adults. Put on this long brown wig to complete your Anne Hathaway's Catwoman outfit from The Dark Knight Rises movie.

---
In the very first issue of DC Comics' Batman in the Spring of 1940 by the name "The Cat." She was created by Bill Finger and Bob Kane. In the original story, the feline character was a high stakes cat burglar who carried a whip as a weapon of her choice and targeted precious expensive jewelry in her crime spree. The cat doesn't wear the iconic black catsuit that she is famous for in this issue. Rather, readers were introduced to the character herself, becoming the femme fatale for Batman who finds her both attractive and antagonizing. In the original comic book issues, her character would often escape after challenging Batman in the story. After being featured in a season of the Batman TV series during the '60s, Catwoman moved up to the big screen during the '90s in Tim Burton's movie Batman Return. Catwoman returned again in her own feature film in 2004 played by Halle Berry and once again in the latest Batman movie sequel, The Dark Knight Rises, in 2012.
Actresses Who Played Catwoman Through the Past 50 years.
These days, when you think about Catwoman, the image of beautiful actress Anne Hathaway walking in her sexy black catsuit might be in your mind, but before this wonderful actress took on this movie role in Christopher Nolan's The Dark Knight Rises, several different famous actresses donned on these feline ears and masks to become Batman's femme fatale of Gotham City!
In 2004, Oscar-winning actress Halle Berry put on a very sexy version of the Catwoman costume in the film called Catwoman. Instead of Selina Kyle, Berry played an African American character Patience Phillip who becomes empowered with feline superpowers. She's more of a hero than a villain, battling Sharon Stone's corrupt model character Laurel Hedare who kills her unfaithful husband and threatens to unleash deadly women face products through her makeup company. The movie didn't do too well at the box office but women loved Berry's Catwoman costume which featured a hot two-piece catsuit with a sexy leather brassiere and cross-body straps.
Catwoman's character fared better in the film when Michelle Pfeiffer slipped into her catsuit in the 1992 blockbuster Batman Returns which was Tim Burton's sequel to the original film adaptation of the worldwide movie blockbuster. Actress Michelle Pfieffer brings life into the Catwoman in Batman Returns. She plays Selina Kyle who works as a mousy secretary for evil business and industrialist tycoon Max Shreck, played by actor Christopher Walken. When Selina uncovers Shreck's scheme to hide the fact that his company's proposed power system has a fatal flaw in which it drains electricity from Gotham City rather and powers it, Shreck attempts to murder Selina by throwing her out of a building's window. Selina survives the fall but she becomes mentally unstable from the attack and mysteriously acquires superhuman feline powers. Her psychotic break makes her obsessed with seeking vengeance against Max Shreck. Selina ransacks her apartment to sew herself a homemade catsuit made from leather, creating almost a Frankenstein monster version of the Catwoman bodysuit. When she goes on her rampage against the evil tycoon, she runs into Michael Keaton's Batman. Catwoman and Batman have an antagonistic relationship but with sexual attraction. When Batman is unable to convince Catwoman to abandon her vendetta, Catwoman ends up electrocuting herself with Shreck to complete her vengeance. However, at the end, the movie reveals that Catwoman survived and she disappears into the night.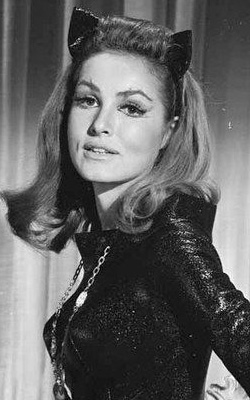 Before Batman became a hit in the movies, it had a successful run in the 1960s as a television series starring Adam West as the Caped Crusader and Burt Ward as Robin. The Batman TV show not only featured one but three different actresses playing the feline role! The first to wear the catsuit was actress Julie Newmar who is called the "original Catwoman" by fans. In 1965, Julie Newmar appeared in 12 episodes of season 1 and 2, wearing a more traditional comic book style Catwoman costume that showed off her hourglass figure and shapely assets. This catsuit was supposedly modified by Newmar herself with metallic black lurex fabric and moved the belt from the waist to the hips to show off the figure. This outfit is now in the Smithsonian Institution!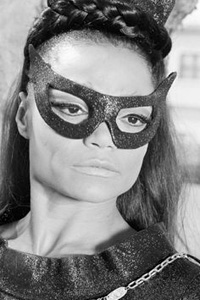 When the creators produced the 1966 theatrical movie based on the popular television series, Newmar wasn't able to replay her role in the feature film due to a reported back injury so actress Lee Meriwether played her part. Meriwether wore an eye mask so young fans wouldn't see obviously notice the change. The movie captured the campy enthusiasm through the appearance of several key villains in the film. It premiered in theaters between the 1st and 2nd seasons of the TV show and received generally positive reviews. Julie Newmar left the role permanently in season 3 to pursue other work, which opened the door for singer-actress Eartha Kitt to take over the part. Kitt only appeared in 3 episodes but played her role memorably by embracing and bringing her own style to the Catwoman persona, making her one the most popular fan-favorite among Batman fans! In the world of cinema, Batman is returning once again in the movie called The Batman and it will feature a new version of Catwoman. This time the feline character is being played by actress Zoë Kravitz. Fans got a real treat watching Kravtiz's version of the Selina Kyle earlier this year in the new movie The Batman!