Adult Batman Costumes Ideas
This year Michael Keaton made an epic return as Batman in the Flash movie! For Halloween this year, you can shop for Michael Keaton's Batman costume or a variety of other Caped Crusader costume designs from other popular Batman movies such as The Dark Knight Rises, Batman V Superman, and Justice League.  These outfits are available in the either the affordable standard version or the deluxe version which features a muscle chest pad attached to a dark jumpsuit with attached boot tops, headpiece, cape and belt.  If you are looking something more theatrical, visit this page for the awesome Grand Heritage Collection Batman The Dark Knight costume for sale! Here is a list of outfits that will give you some good Batman Halloween costume ideas for men.
Best Batman Costume Ideas for Halloween 2023
Michael Keaton's Batman Costume

If you enjoyed Michael Keaton's return as Batman in the movie Flash, you will want to suit up at the classic Caped Crusader!

---
Robert Pattinson's The Batman 2022 Costume

This costume is inspired by The Batman 2022 movie featuring Robert Pattinson as the newest but darker version of Bruce Wayne. This time he teams up with Catwoman to fight The Riddler. Available in standard or x-large men sizes.

---
Adult Deluxe Batman Dawn of Justice Costume

Inspired by Zack Synder's new epic film Batman Vs Superman: Dawn of Justice, this deluxe Batman costume features the super hero's iconic jumpsuit, belt, cape, boot tops and mask. If you like Ben Affleck's latest version of the new darker Batman, this outfit is perfect for you. Battle Lex Luthor and Superman for Halloween!

---
Armored Batman Costume

Suit up like Batman in this deluxe armored costume like you saw in the Batman V. Superman: Dawn of Justice movie! Available in adult men sizes 42″ and 46″.

---
Plus Size Batman Costume

This is the deluxe version of the Dark Knight Rises Batman costume in plus size: 44-50 This enhanced version features a muscle chest top, pants, face mask, belt, and cape.

---
Armored Batman Grand Heritage Costume

If you loved Batman's new armor battle suit in the movie Batman V. Superman: Dawn of Justice, you will want to suit up in this super deluxe Batman Armored Grand Heritage costume that looks like the one featured in the scene where he battles Superman!


---
Dawn of Justice Batman

This is newest Grand Heritage edition of Batman's Dawn of Justice costume from the movie Batman V. Superman which premiered in March 2016! Ben Affleck's Batman will be back in the new Justice League of America movie coming soon!


---
Collector's Edition Arkham City Batman

This super deluxe Arkham Batman suit is a movie quality costume set that will impress any Batman fan.

---
The Dark Knight Rises Batman

This is the newest revised version of the super deluxe Dark Knight costume available at a lower price. This super hero outfit is also part of the Grand Heritage Collection.


---
Adult Batman Arkham Knight

Inspired by the new video game, this Arkham Knight's Batman costume features a padded muscle chest, mask and belt. Men sizes small to x-large.

---
Black Men Boots

These black boots for adult men go well with any matching super hero costumes like Batman Dark Knight. Available in men shoe sizes 8-9, 10-11, 12-13, and X-Large 14.

---
Kid Deluxe Batman Costume

This is the child version of the Dark Knight Rises Batman muscle costume available in toddler and boys sizes small to large.

---
Check out these classic Batman character costumes!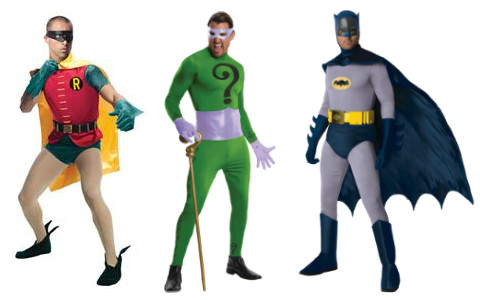 Don't forget about Batman's partner in crimefighting: Robin!