Poison Ivy Costumes Ideas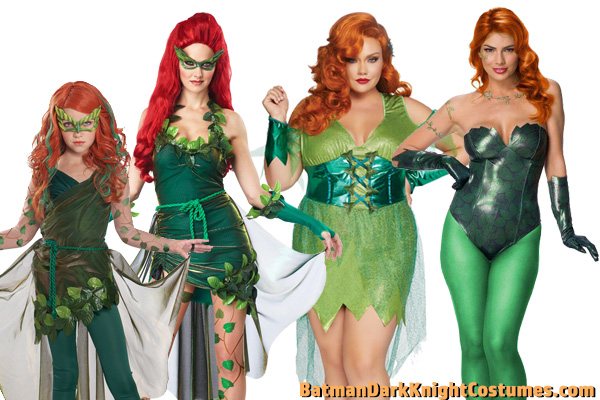 Halloween is making a comeback this year with Halloween being perfectly set on the weekend! If you haven't chosen a Halloween costume, we recommend dressing up as one of Gotham City's most notorious femme fatale characters which are among the top choice costume themes this year! One of the most popular femme fatale characters who battle Batman in Gotham City is Poison Ivy. The colorful appearance and personality of this toxic villainess bring out the bad girl appeal. We have to take a brief look back at her roots for you to understand her character which was created by comic book editors Robert Kanigher and Sheldon Moldoff for Batman comics episode number 181 which was released back in June 1966. For this Halloween, turn everyone green with envy by wearing an attractive Poison Ivy costume!
The Best Poison Ivy Halloween Costume Ideas for 2020
1X-4X Plus Size Poison Ivy Costume

This beautiful three piece costume is the perfect Halloween costume for full figure women who need a comfortable size 1X/2X or 3X/4X Poison Ivy character dress costume!

---
| | |
| --- | --- |
| Poison Ivy Seductress Dress | Sexy Poison Ivy Dress |
| | |
| --- | --- |
| Lethal Beauty Costume | 1X – 4X Plus Size Lethal Beauty |
Before becoming one of Batman's most unforgettable rivals, she was a botanist from Seattle Dr. Pamela Lilian Isley who was seduced by Marc LeGrande into the criminal world by persuading her into helping him to steal an Egyptian artifact containing ancient herbs. It wasn't long before Marc turned on Pamela because he was paranoid that she would snitch on him. As a result, he tried to poison her with deadly herbs but Pamela strangely survives, becoming immune to any type of fatal toxins from plants. From this point on, she became the Poison Ivy!
When Poison Ivy originally became exposed to the toxins, they integrated into her bloodstream and infected her mind, making her more compassionate for plant life while losing empathy for human beings. Anyone who tries to stop her eco-terrorism can be stopped by a simple kiss that brings on death to her fallen victims. With her sexy fiery red hair, voluptuous curves, and soft red lips, it was easy for her lure victims. Eventually, Poison Ivy was able to find a human friend who was Harley Quinn, becoming her partner in crime. If you have a friend or partner, you two can go as Poison Ivy and Harley Quinn to your next Halloween costume party! Check out the wide selection of amazing Harley Quinn costumes!
In 1997, the movie Batman & Robin was released, featuring the character of Poison Ivy, played by actress Uma Thurman. Her campy and fun interpretation of this super villain helped make Poison Ivy costume a popular Halloween costume idea. Although this character was missing in the 1960s live-action Batman TV series, she made appearances on the popular cartoon television series such as Batman: The Animated Series, and The Batman. The voices of Poison Ivy was done by voice actresses Diane Pershing, and Piera Coppola. In the animated series, fans watched Poison Ivy form a strong bond with Harley Quinn. Their relationship was future explored in the comic books. In the 2016 Harley Quinn comic book issue # 25, their friendship took a more intimate turn. And in the animated Harley Quinn television series, this relationship was explored more in-depth as a romance.