Batman's Robin Halloween Costume Ideas
Our favorite cosplay season is just around the corner…Halloween! Yes, time does fly and as Robin the Boy Wonder would say, "Holy Halloween, Batman!" Although this iconic Gotham City superhero didn't have a major role in the recent Batman and Justice League movies, avid fans of the original Batman comic book and television series will always remember the famous Dynamic Duo sidekick, Robin the Boy Wonder.  Robin aka Dick Grayson has appeared in many roles over the years such as in the original 1960s Batman TV show, Teen Titans cartoon series, Batman and Robin movie (1997). Now Robin is back as Nightwing in the new live-action Teen Titans television series. If you want to suit up as the cape crusader's loyal companion Robin for Halloween, we have listed a wide variety of Robin costumes for both kids and adults. We also have the new Arkham Origins, Nightwing, girl Robin, Teen Titans Robin costume as well. Below are some cool Batman's Robin Halloween costume ideas for kids and men!
The Best Robin Costume Ideas 2023
Ultra Supreme Edition Robin Movie Costume

This amazing "Ultra Supreme Edition" Robin movie costume features the super hero suit inspired by the film Batman and Robin (1997) starring Chris O'Donnell as Dick Grayson aka Robin the Boy Wonder. This Robin movie costume is currently at a very special low sale price! This costume looks similar to Robin's Nightwing costume so with some minor modifications, you can convert this quality costume into Dick Grayson's alter ego Nightwing!

---
Batman TV '60s Robin Costume

This iconic Halloween costume is inspired by the classic 1966 Batman television that featured Burt Ward as Batman's dynamic sidekick, Robin. This adult Robin Grand Heritage costume is a high quality nostalgic super hero costume that will impress your friends. Available in men's standard size or XL.

---
Gotham Knights Robin Costume

If you are searching for a non-traditional costume style for Robin, we recommend this mysterious Gotham Knights Robin costume which features an iconic battle suit consisting of a red hooded tunic, black mask, dark green pants, and matching boot tops. Available in several adult men sizes.

---
Deluxe Robin Adult Costume for Men

Inspired by the Teen Titans series, this is the deluxe version of the iconic Robin costume with padded chest, giving you the extra super hero appearance you want on Halloween night. This also comes with the cape, belt, and eye mask.

---
Deluxe Arkham Origins Robin Costume for Men

This is the deluxe version of the Robin Arkham Origins costume featured in the Batman Arkham video game series. This includes the stylized bodysuit, boot-tops, belt, eyemask, and Robin's hooded cape! Only limited quantities left in stock! Available in adult men sizes small to x-large.

---
Deluxe Child Robin Costume

This impressive the Boy Wonder costume is the deluxe Teen Titan Robin outfit for boys. This includes a padded muscle chest for that extra heroic look. Based off the popular television cartoon and Batman comics. Officially Licensed. Available in small (ages 3-4), medium (ages 5-7), large (ages 8-10).


---
3D Robin Child Costume

This eye catching 3D Robin costume for kids features a graphic detailed muscle shirt with padding to give your child the super hero look you see in the comics and animated series. This stylized comic book costume also includes the green eye mask, yellow cape, and belt.


---
Child Nightwing Costume

This is the new deluxe Nightwing costume for kids. In the comics, Robin later becomes Nightwing when he decides to strike out on his own without Batman to protect Gotham City from the forces of evil! This child outfit is available in sizes small, medium, or large.

---
Female Robin Costume for Women

If Batman needs a sexy companion for Halloween, this hot Robin girl costume for adult women will definitely be the right choice for those looking to spend Halloween dressed up as a couple. Become your own dynamic duo by pairing up Batman with this attractive female Robin dress.

---
Girls Robin Costume

This female Robin costume is inspired by the Teen Titans cartoon series. This girl's outfit includes the red & green dress with Robin's R insignia, yellow cape, yellow belt, black eye mask and green glovelets.

---
DC Comics Adult Robin Costume

Become Batman's sidekick the Boy Wonder Robin from the Justice League of America. This standard version of the Adult Robin costume includes a jumpsuit, belt, cape, boot tops and eyemask. Available in men sizes small, medium, or large.

---
Toddler Robin Costume

This little boy wonder costume will look cute on your child. This includes the cape and black mask. Available in toddler and infant sizes.

---
Men's T-shirt Robin Costume

This adult t-shirt Robin costume kit includes a shirt, black eye mask and removable cape. Medium to X-Large.

---
Check out these classic Batman character costumes!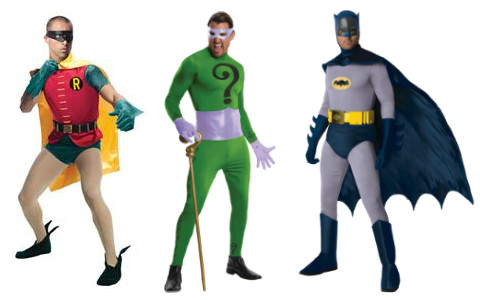 Don't forget about Robin's crimefighting partner: Batman!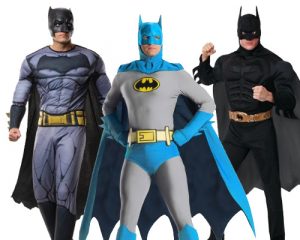 The character Robin debuted in DC Comic's Detective Comics Issue 38 back in April 1940. He was introduced to us a Dick Grayson, the teenage son and member of his acrobatic family group called The Flying Graysons who performed at circuses. Batman took Dick Grayson time under his wing when his entire family died in a circus accident that was actually set up by the mafia that was blackmailing the circus owner. Batman used Grayson's acrobatic talents to mold him into his crime-fighting sidekick, Robin, creating the dynamic duo! Robin teamed up with Batman for years until he decided to venture on his own as The Nightwing. Batman moved forward, adopting new sidekicks to fulfill the role of Robin. When Grayson retired, Jason Todd became a new version of Robin in the comic book Batman (issue #357) in 1983. Editor Dennis O'Neil of DC Comics actually set up a poll in 1988 for fans to call in to decide the fate of Jason Todd's Robin. The poll was set up during the four-part story in comic book Batman issues #426-429. Fans voted to kill off Robin so his character died in an explosion after the Joker severely beat him up. Many fans were unhappy with the results and DC Comics received a lot of hate mail. Afterward, several other characters filled in the role of Robin. These characters included Tim Drake, Stephanie Brown (The first female Robin), and Damian Wayne (the son of Batman and Talia al Ghul). Even though the character is missing in the movies, fans enjoyed Robin's return to television in both the animated and the live action version of the Teen Titans series!
Robin vs Batman in the Teen Titans television series!