The Best Child Batgirl Costumes on Sale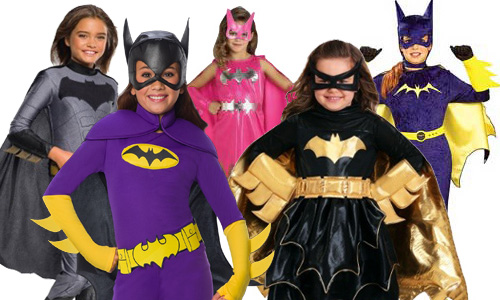 This Halloween season, move over guys, Batman costumes are not just for the boys! As you know, girls can participate in the Cape Crusader superhero adventures by dressing up as their own Gotham City super heroine costume Batgirl or Batwoman! These cute Batgirl costumes for kids come in a wide variety of different colors and styles! Keep an eye out for the new DC Superhero Girls Batgirl, Lego Batgirl, and special limited pink color Batgirl costume on sale! Add a red wig to your black Batgirl outfit and become the new Batwoman! The original character is based on the comic book character Barbara Gordon, the daughter of Police Commissioner Gordon, who helps Batman capture the villains terrorizing Gotham City. Check out the variety of different super heroine costumes inspired by the Batman movie and TV shows below.
The Best Batgirl Halloween Costume Ideas for 2021
Deluxe Batgirl Child Costume

This girl's Halloween costume is the officially licensed deluxe Batgirl costume for children. Available in dress sizes small 4-6, medium 8-10, and large 12-14.

---
Child Pink Batgirl Costume Dress

If your daughter prefers a more feminine looking Batgirl costume, this pretty pink costume dress will be the right choice. It features sparkles with sliver accented batman logo, belt, glovelettes, boot tops, mask and attached cape. Girl sizes range from toddler to medium child.

---
Deluxe Girls Batgirl Lego Costume

Inspired by the hit Lego movie, your child can dress up as Lego Gotham's greatest heroine, Lego Batgirl! This is the deluxe version that will make your child look just like the character from the film!

---
Classic Batgirl Child Costume

If your child prefer the classic character from the comic book version, this pretty purple velvet Batgirl Halloween Costume for children will be your choice. This outfit features a purple jumpsuit with attached boot tops, yellow cape, gauntlets, belt and Batgirl headpiece. Available in girl sizes small, medium, and large.

---
Child Batgirl Tutu Costume

This adorable Halloween costume is designed for young girls who want their Batgirl dress to have a tutu This cute female Dark Knight outfit also includes an eye mask, cape, and gauntlets. Available in girls size small 4-6x (waist 25-26″) and medium 8-10 (waist 27-30″).

---
Toddler Batgirl Costume

Include your child in the Batman craze with this cute toddler size Batgirl costume for Halloween. Like the older child version, this outfit also includes the dress with attached cape, glovelets, face mask, bootcovers, and belt. Toddlers Size 2T-4T.

---
Child Batgirl Sequin Costume

This new super heroine costume for 2015 includes a black sequin dress with tutu and Batgirl logo, eye mask, belt, and cape. Available in sizes small or medium for girls.

---
Kids DC Superhero Girls Batgirl Costume

This is the new DC Superhero Girls Batgirl costume for Halloween for kids!

---
Deluxe DC Superhero Girls Batgirl Costume

This is the official child DC Superhero Girls Batgirl costume inspired by the hit animated TV series for girls!

---
Adult women and teenage sizes for the Batgirl costume are also available for sale by online sellers. If you want to see more Batgirl costume ideas, please check out those pages or use the search engine to find them.
Check out our adult Batgirl Halloween costumes page!