Cosplay Riddler Costume Ideas for Halloween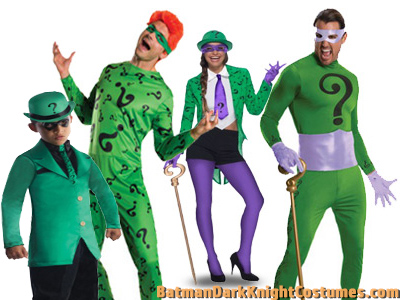 If you saw the latest The Batman movie trailer, it's hard to miss the big hint for The Riddler's return in the next 2022 Batman movie! As Gotham City's most enigmatic villain, the Riddler remains to be one of Batman's most puzzling arch nemesis for decades in the DC comic books! The character's real name is Edward Nigma aka Edward Nashton who debuted in 1948. He is known for his obsession with riddles and word games. His popularity with fans soon translated to the television screen during the 1966 Batman TV show which featured actor Frank Gorshin as the memorable live-action version of the sinister genius villain. It wasn't until 1995 when the Riddler starred on the silver screen as Jim Carrey in the movie Batman Forever. The character still remained popular in the comic book and animated versions of Batman. These different incarnations have inspired many different styles of Riddler costumes and cosplay. So if you like to see some good Riddler costume ideas for Halloween, we have selected some quality costumes below.
Riddler Costume Ideas for 2021

1966 Batman TV's Riddler

---

Jim Carrey Riddler Costume

---
Men's Fancy Riddler Suit

---

Women's Riddler Costume

---
Boy's Riddler Costume

---

Girl's Riddler Tutu Costume

---

There are several different styles of Riddler costumes for cosplay that can be found online so you get the best sale prices available. The classic version is inspired by Frank Gorshin's portrayal of the villain in the popular campy 1966 Batman television. This one is from the prestigious Grand Heritage collection by Rubies which is known for the quality made hand-sewn costumes. If you prefer an outfit inspired by the movies, Jim Carrey's Riddler costume is inspired by the 1995 movie Batman Forever. The film also had a family-friendly campy theme like the television series. It was directed by Joel Schumacher and featured Val Kilmer as Bruce Wayne aka Batman and Tommy Lee Jones as Harvey Dent aka Two Face. In the newest movie called The Batman, the Riddler makes a return and this time he's played by Paul Dano who is challenging the new Batman played by Robert Pattinson. This movie directed by Matt Reeves will also introduce the new Penguin (Colin Farrell) and Catwoman (Zoey Kravitz) and will premiere on March 4, 2022.
Take a look at more classic Batman character costumes!